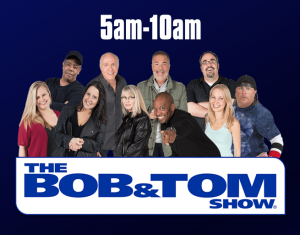 The Bob & Tom show on Z1023! Weekdays 5am – 10am, and the best of Bob & Tom Saturdays 6am – 10am.   Click here for the Bob and Tom website!
Tom Griswold – Tom Griswold has become one of the most recognized names in radio – or as his staff refers to him, "the name on the hat." Tom stumbled into a bar one evening in Petoskey, MI, and
started chatting with the bartender, Bob Kevoian. That chance meeting would spark the birth of The BOB and TOM Show.
From there, the world got to know Tom as the Ivy League educated neurotic that always has an opinion and retort at the ready. Tom leads the room each morning during the four-hour show. He's also one of the best at conducting interviews with any well-known public figure. For decades, Tom has entertained millions by just being him.
Born in Cleveland, Tom went to Columbia University in New York City earning a degree in English Literature. He is the father of seven children. Two of his sons (Sam & Willie) followed in his footsteps of comedy writing/stand-up and now work for the show. In his free time, Tom loves being with his family and two golden retrievers. When not at home, he looks forward to hosting various charity events.
Kristi Lee – Sitting at The BOB & TOM "News" desk, Kristi Lee is the voice of
reason in the room – all while delivering the day's relevant and lifestyle news. Originally from Indianapolis, she is also a mother of two daughters. Kristi is a huge car enthusiast and even owns a classic Nissan Figaro.
She loves traveling, music, reading, and working with local/national charities. As a former ESPN television host, she also enjoys sports and playing golf.
Chick McGee – Chick McGee is a veteran of The BOB & TOM Show and sits at the sports desk every morning with the latest updates and the occasional "stupid world record." Born in London, Ohio, Chick's been a Washington Football fanatic his entire life. Chick's voice isn't just known for delivering sports,
but also many classic BOB & TOM bits including his most notorious character, Mr. Obvious. When not on the air, you can find him at home with the two "big sweeties – his lady dogs."
Josh Arnold – Josh Arnold is a stand-up comedian originally from St. Louis and was a frequent guest of The BOB & TOM Show before officially joining as a fulltime co-host in 2016. Josh quickly became a fan favorite as male listeners see him as a "guy's guy" and female listeners find him to be smart and sensitive.
Josh is a savant of the English language which often leads to his sophisticated wordplay and an impressive library of puns. Prior to joining the show, Josh had a varied resume from writing, acting, and even teaching English in South Korea. If Josh isn't on the air or touring the country doing stand-up, you'll most likely find him reading a book, watching hockey or enjoying/studying a movie – Film is yet another topic he is an expert on.